Perhaps you started your business with an accounting package and added new software aimed at addressing specific parts of your operation as your production evolved and grew. By now you know first-hand how difficult it can be to get separate software solutions to interact seamlessly, and you may have even devised time-consuming workarounds that force applications to perform tasks they were not designed to do.
The COVID-19 pandemic's impact on the Australian manufacturing industry was significant. International borders slammed shut, and industries sought to shorten the supply chain. For many manufacturers, this disruption meant they were busier than ever as it was coupled with a surge in demand from their customers trying to get ahead of their own supply forecasting. According to the Manufacturing Purchasing Managers' Index, manufacturing growth hit a five-year high following the initial blow of the pandemic. In the June 2021 quarter, production rose 0.9 per cent, and annual growth hit 9.6 per cent.
While growth has slowed since that initial burst, the ripple effects of the pandemic and resulting changes to consumer and industry behaviour are still being felt. Uncertainty of supply from raw materials and the impact of that on fulfilling customer orders, as well as the competition for labour resources in an era of closed borders and travel limitations, even further complicate the environment. For many manufacturers, grappling with a steeper-than-ever growth trajectory with these headwinds, this has posed a new set of challenges, and current systems and processes are beginning to show cracks.
System and process shortcomings may touch every area of the business: accounts, sales, inventory, IT management, internal communication channels, and more. Things that were inconvenient, perhaps more time-consuming than your people really wanted them to be, or restricted your visibility and agility, are suddenly real impediments to both satisfying customers and making the most of the this once-in-a-generation situation. As a result, companies must pivot, step up, and capitalise on new opportunities to thrive. For some, achieving these outcomes means parting ways with old technologies and embracing new, innovative systems. That's where most modern enterprise resource planning (ERP) solutions can help.
Let's highlight the three key indicators that your manufacturing business is ready for a new ERP platform. But first, a brief introduction to ERPs and their game-changing benefits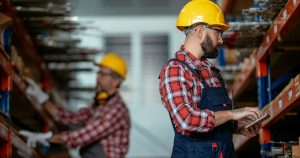 What is an ERP system? How do they benefit manufacturing businesses? 
Perhaps you started your business with an accounting package and added new software aimed at addressing specific parts of your operation as your production evolved and grew. By now you know first-hand how difficult it can be to get separate software solutions to interact seamlessly, and you may have even devised time-consuming workarounds that force applications to perform tasks they were not designed to do.
Enterprise resource planning (ERP) software solves this problem. It unites and integrates various operational processes under one powerful, ideally user-friendly, 'single source of the truth' solution. ERP systems can be located on-premise or cloud-based (or even a hybrid of these two, where you may have some or all of your applications in the cloud, or hosted in your own 'private cloud'), and encompass the following important parts of a manufacturing business:
Financial management
Customer relationship management (CRM)
Sales management
Product management
Project and contract management
Planning and scheduling
Supply chain management
Production management
Service and asset management
Job costing
Business analytics and performance management.
ERP solutions put critical data at your fingertips (and ensure the integrity of that data), automate resource-intensive processes, empower your business to keep up with demand, and pave the way for sustainable growth.
How do you know if your manufacturing business is ready for an ERP system? 
One way or another, there will be noises and other signs that you and your team actually probably encounter every day, but through sheer hard work from core, highly dedicated people in the business "deal with" and manage to get their jobs done.
Here are a few examples that might feel familiar to you.
Your current processes are costing you money 
Are you carrying too much inventory? Do you feel out of touch with your running costs? Are you failing to invoice or claim everything your business is entitled to from your customers? Are your staff wasting valuable time on manual tasks? If you answered yes to any of the above, can you chalk these business challenges up to inefficient or overly manual processes? It's very possible.
If your current way of managing your operations makes your head spin, you are not poised for business growth.
By implementing a quality ERP system, you can automate, optimise, and focus on growth- and revenue-driving activities.
Your finance team dreads end-of-month reporting 
Paper invoices, multiple separate versions of the same spreadsheet, inconsistent data, and buried financial information can make end-of-month reporting a thing of nightmares. Worse yet, these inefficiencies come with a price tag – many more accounting hours logged than necessary and other avoidable tangible and intangible costs.
An ERP system can streamline every facet of your business's financial management, including:
cash and asset management
accounts payable and receivable
credit management and debt collections
tax and rebates
financial planning and forecasting
financial reporting
Your stock is based on guesses – not data 
Do you find yourself constantly checking with the warehouse whether you really have a specific item in stock before promising it to a customer, or committing to job completion date, and not being able to reply on what "the computer" tells you? Have you experienced a drop in sales, not because demand is falling but because you simply don't have the inventory to fulfil orders? Has this led to a dip in customer satisfaction?
Data is a cornerstone of operational best practices in all industries, especially manufacturing. Without an accurate and reliable source of data reflecting real-time stock levels, you risk missing out on sales or making promises you can't keep.
If any of your raw materials and component and standard stock management, ordering, and customer management processes are founded on guesses or assumptions, it's time you take the step to a new ERP system.
How can you ready your business for ERP implementation?
If any of the above challenges resonate with you, and you believe your manufacturing business is ready for a modern ERP solution or will be in the near future. Here's how you can prepare for implementation:
First, make sure you fully grasp the scope of your needs and what's possible with ERP software. Consider your goals – what functionalities will you need as your business grows in the next three to five years? Where will you be selling your products and services? What new product or service lines will you be introducing to extend your business?
Then, determine which kind of software deployment will best suit your needs: cloud or on-premise, or a hybrid of the two. There's advantages to both. If you are unsure, reach out to Precise and our team can discuss your unique requirements and guide you in the right direction.
Finally, don't underestimate the importance of ERP support. The best ERP providers become business partners – an extension of your team – who are invested in your business's long-term success. Excellent software that meets your current and future needs is only one side of the coin. Five-star ongoing support and a long-term partnership are also integral to a beneficial outcome.
Revolutionise your manufacturing business with ERP software
Outdated systems, manual tasks, and unreliable data can lead to devastating bottlenecks and customer dissatisfaction. So, if your business is suffering from head-spinning processes, nightmarish end-of-month reporting, and a hope-for-the-best attitude, now's the time to capitalise on growth opportunities by adopting an ERP system.
Precise Business Solutions has decades of industry-specific experience in the ERP for manufacturing space. We are experts in uncovering what parts of a business are hindering growth efforts. We will work collaboratively with our your team to shape a high-impact, strategic, technology-driven ERP implementation that will help you to achieve your business goals.
If you are ready to begin a conversation about the future of your business software, book a 15-minute chat with one of our ERP specialists today.