What is Epicor Kinetic Business Management Software?
Long recognised as one of the world's most visionary business application vendors, Epicor's latest generation of its ERP (Enterprise Resource Planning) software is a game changer.
Combining more than 20 years of experience, deep industry-specific functionality and a best-in-class technology foundation, Epicor Kinetic ERP can help take your business to the next level.
Epicor Kinetic ERP allows customers to think about their business from a fresh perspective, to focus on core growth activities, and to be inspired by the possibilities.
About Epicor
Epicor Software Corporation is a global business software company headquartered in Austin, TX, USA and was founded in 1972. Its products are aimed at the manufacturing, distribution and aged care industries.
Epicor is a leading ERP provider with a significant customer base and scale well positioned for providing organisations with industry 4.0 capabilities and beyond. Their flagship product, Epicor Kinetic ERP, promotes innovation to support business to scale and evolve, and also provides the flexibility to choose the deployment model that suits you.
Read More
From a functionality and architecture perspective, Epicor Kinetic ERP delivers deep layers of industry-specific functionality complete with consistent branding, simplified visuals and an innovative user experience designed for greater efficiency and productivity.  With its rich manufacturing first feature set, fully integrated modular approach, and extensive user-friendly reporting and customisation capabilities the benefit that it offers to the manufacturing, distribution and aged care industries is significant.
Developed specifically for cloud deployment or applicable via more traditional on-premise option, via hosting or as a SaaS, Epicor Kinetic ERP has been developed to provide you with deployment flexibility and accessibility anywhere.
Read Less
Everything you need in one place
Manage every part of your  business in one all-inclusive, fully integrated solution. Epicor Kinetic ERP combines the best of a core financial management system with supply chain management, production management, business intelligence, planning and scheduling tools and more.
While implementations of APIs (Application Programming Interfaces) between related vendors/applications have continued to improve, there are still some significant advantages to having a single core solution from a user interface, data management, reporting, administrative overhead, and support perspective.
With Epicor Kinetic ERP being a fully integrated solution, all core activities for your business can be managed within the one centralised ERP platform and all data necessary for decision making is also available for real-time analysis via the user-friendly reporting and dashboarding tools available. This all means less of your time spent trying to chase information and manage multiple systems, and more time available for you to focus on growing and improving your business.
A fully integrated and flexible modular approach
Support, consistency, and simplicity are all important for any major system and or solution. Unlike some other solutions, all of Epicor ERP 10's core modules have been developed within the same platform by Epicor to be fully integrated, removing the need to manage data and access across multiple systems and vendors.
And, as organisations grow and evolve their system needs to as well. Processes and functionality that are most important to you today may not be the same in a couple of years.  Your organisations' requirements will change, and your systems will need to be able to facilitate them. With Epicor Kinetic ERP, you, or we, can easily make customisation and optimisation changes to support your business evolution as you grow or change your business focus.
Read More
Epicor Kinetic ERP suites and modules:
Human Capital Management
Services and Asset Management
Production Management
Supply Chain Management
Planning and Scheduling
Financial Management
Customer Relationship Management
Sales Management
Product Management
Project Management
Business Intelligence and Analytics
Global Business Management
Governance, Risk and Compliance
Business Architecture.

Read Less
Key capabilities of Epicor Kinetic ERP
Epicor ERP is built with five key pillars supporting its architecture, approach and capabilities. Read more about each of these pillars by clicking on the headings below.
Collaboration
Systems should facilitate better communication and cooperation both inside and outside of your business. Leverage social media concepts, the web and standard office automation tools to access and share information in your Epicor system. Your business will benefit from improved relationships and you will remove silos between the various departments in your business.
Choice
Traditional on-premise deployment, hosted or cloud-based, virtualised or physical infrastructure – you choose the model that works best for your business. You can even mix and match or move between deployment models in the future if your needs change.
Responsiveness
The system should 'just work' and at the speed you need it to. With peace of mind that everything is functioning as it should be, you can get on with what is really important – servicing your customers.
You need to be able to shape the system – screens, dashboards, processes, whatever – as circumstances change without needing to program the source code to the nth degree each time. And, if you do tailor the system and want to upgrade to a new release, or deploy the system to a new environment, this should be relatively quick and easy. Epicor Kinetic ERP has been engineered with these outcomes in mind.
Simplicity
Based on a 100% Microsoft technology stack and the fourth generation of Epicor's "TrueSOA™" service-oriented architecture Epicor ICE, the software is designed to provide an instantly familiar user experience.
Inbuilt tools make it easy to tailor the system to capture the best of the unique elements of your business that today give you competitive advantage, without sacrificing the best-in-class standard processes inherent in Epicor Kinetic ERP.
Mobility
Access your real time information about your business anytime, anywhere.
Epicor Kinetic ERP harnesses both native mobile apps, as well as user access through common web browsers and touch screen interfaces, to allow you to truly conduct business on the move using your favoured device.
Want to know more?
Think you may need a new ERP system, but not sure where to start? Whether you are just researching your options, or you are currently in the throes of software selection, we can help you at every step of the way.
We can help you to understand the core differences between Epicor Kinetic ERP and other similar ERP solutions and help you to determine if Epicor Kinetic ERP is the right fit for you.
Contact us today to arrange an obligation free consultation with one of our expert consultants. This can be done in person, via video conference or over the phone from the comfort of your desk.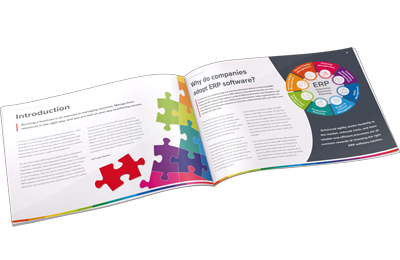 Is Your Business ERP Ready? 
Prepare your business for a successful Enterprise Resource Planning (ERP) project with our 12-step guide to success