ERP Software Deployment Options
ERP Software Deployment Options
In the global business environment, agility and responsiveness have become strategic imperatives. Advances in ERP system capabilities have empowered organisations to evolve to meet challenges and changing expectations rather than having to live forever with "how the system does it".
What does 'ERP deployment' mean, and why is it important?
ERP deployment is the mechanism through which the software is delivered to users. Today, you can select from several ERP deployment strategies, including cloud, on-premise, and hybrid. Each provides its own set of benefits, and the overall success of an ERP implementation will hinge in part on the chosen deployment methodology and how that aligns to the business' model, objectives and resourcing.
The deployment option you choose will depend on the scope and scale of your business and the considerations that matter most to your organisation's ongoing growth. It's crucial to determine which is the best fit for your business early in the ERP selection process, as some software vendors offer only cloud-based or on-premise implementation models. Precise offer both, as well as hybrid solutions that blend the two.
Generally though, a cloud-based ERP software system is more rapidly deployed, offers a reduction in direct and indirect IT costs, provides greater cyber-security, and has the ease of automatic software upgrades. Which is why more Precise customers are opting for cloud-based deployment of their new ERP software, or migrating to the cloud when a software upgrade is scheduled
What options are available when it comes to ERP deployment?
You have several options to choose from when embarking on an ERP implementation, the three most common being cloud, on-premise, and hybrid. Let's take a quick look at each of these models:
Cloud ERP solutions
Cloud ERP solutions are owned and hosted by the software vendor (for example Precise Business Solutions). Instead of licensing the software and purchasing the hardware yourself, you pay a subscription fee (typically monthly or annually) to access the system from wherever the vendor is hosting it. While you don't own the software, the fee includes system maintenance, upgrades, and some level of helpdesk support. This model is known as Software as a Service (SaaS), with some vendors offering a single, centralised hosting location, and others offering their software based out of various regional hosting hubs. The vendor keeps the hardware and environment updated, maintained and secured.
On-premise solutions
On-premise solutions are hosted on dedicated servers that you own, manage, and maintain. You are also responsible for licensing the software directly. On-premise ERP systems generally demand higher upfront investments with lower on-going annual fees to access software updates and helpdesk facilities.
Hybrid solutions
Hybrid solutions include both cloud and on-premise elements, combined to meet your business' specific needs, existing infrastructure and capabilities.
How will we know which deployment option is best for us?
Several key decision-making factors will influence the type of deployment you choose. Here's a brief overview:
Your Budget
Different deployment methods come with different price tags. In most cases, cloud ERP solutions are cheaper to implement and typically are factored as Operating Expenditure rather than Capital Expenditure as you never "own" the software licensing. However, if you already have the infrastructure and IT management resources available, on-premise or hybrid solutions may make more financial sense long-term.
Security Requirements
Users of ERP software rely on accessing and managing large amounts of secure data. Cloud-based ERP systems like Epicor are best stored on servers located in top-tier data centres, the off-site physical location of computer infrastructure, specifically hardened against cyber-attacks. However, some highly regulated industries do not allow businesses to store data in the cloud, or demand data sovereignty that may preclude overseas-hosted options.
Maintenance Capabilities
An on-premise solution requires a highly skilled in-house IT team to maintain and update. For startups, smaller businesses or those with more limited resources, hiring full-time employees may not be an option. For medium to large-scale businesses a cloud-deployment model frees up the IT team to better utilise their time on value-added tasks. In a SaaS arrangement, the vendor is responsible for the upkeep of software and hardware.
Scalability
One of the major benefits of cloud solutions is the ability to scale with ease. Expanding on-premise solutions often requires hefty hardware purchases, whereas extending your license count for a cloud-based ERP is as simple as requesting via an email or support portal that you move to the next subscription level.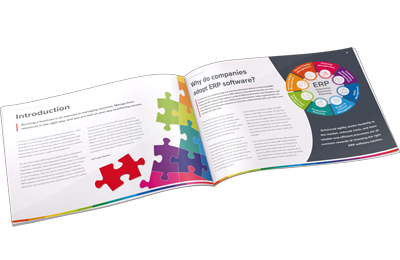 Is Your Business ERP Ready? 
Prepare your business for a successful Enterprise Resource Planning (ERP) project with our 12-step guide to success