The COVID-19 crisis sent a shockwave through the world, forcing business leaders to take a deep and honest look at how sustainable their organisations truly are. Many are rethinking their operations and looking at what actions they can take to increase agility and efficiency. These two traits are essential for thriving in the new normal.
Cloud ERP
supports both. With a cloud-based
ERP solution
, your organisation will benefit from key advantages that can resolve the vulnerabilities revealed during the pandemic. This is one reason why we're seeing huge market growth in this sector.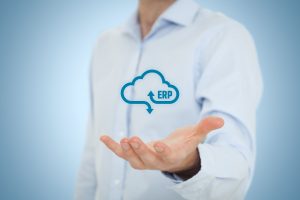 The global enterprise resource planning software market was on a fast growth trajectory even before the pandemic unfolded, but COVID accelerated this trend. According to a research report published by Technavio in late 2020, market growth will accelerate at a compound annual growth rate (CAGR) of nearly 9 per cent from 2020 to 2024.
In Australia, the pandemic also drove a significant shift toward cloud computing and digital transformation. A December 2020 report by Information Services Group found that many Australian enterprises are turning to cloud technology such as Cloud ERP to improve supply chains, enable remote working, ensure business continuity, and boost competitiveness.
If your business is looking for ways to optimise efficiency and gain a relative advantage, cloud ERP offers clear benefits that can support your objectives in the post-COVID world. Here's how.
Cloud ERP frees up time and money
Some of the core drivers of cloud adoption are cost efficiencies and time savings. Because the software is hosted and managed on cloud servers, your business doesn't have to worry about a long list of IT-related expenses because they are handled by your vendor.
These include:
Ongoing IT maintenance
IT staffing for routine tasks such as updates and patch management
Security and backup
Energy costs for running and cooling your server room
Most Cloud ERP platforms can integrate seamlessly with everyday business applications, such as your CRM and sales automation software. Even more beneficial, your ERP vendor ensures the software is always updated with the latest version. Continuous updates help to protect your system from cyberattacks, a critical concern in a post-COVID world.
With a streamlined cloud ERP solution, your organisation won't have to devote as many resources to IT management, freeing up staff to focus on innovation and business growth. This allows your IT team to move toward a more agile workflow because they're not weighed down by day-to-day tasks.
This can have massive benefits. For example, one natural-resource company implemented agile methods for business application development during COVID. As a result, it started releasing new capabilities in days instead of months while at the same time limiting risk and technical debt.
Imagine what your company can do when you free up your IT staff to focus on innovation!
The cloud enables remote productivity
One of the most monumental shifts brought on by the pandemic is the prevalence of remote work. Before the COVID crisis hit, one in five employees regularly worked from home. During the pandemic, work-from-home days doubled for managers and nearly tripled for employees in sales and administration.
Post COVID, remote work isn't going away. It looks like many companies will operate with a hybrid work model, offering both remote and in-person work options.
There are a few reasons for this. One, employers realised that staff are just as productive at home. With cloud tools, employees can collaborate virtually, accomplishing just as much, if not more, than they would in the office.
Another big factor is employee preferences. According to a survey conducted by the University of Sydney Business School, Australians want to work remotely an average of two days per week after the pandemic has ended, and 75 per cent think employers will support future work-from-home plans. With cloud ERP software, you can foster a remote-flexible work culture that employees want, helping your organisation attract and retain top talent.
A cloud-based enterprise resource planning solution also helps to support business continuity. In the event of a disaster, whether it's a power outage or a pandemic, employees can securely access your ERP system from anywhere with an internet connection. All the tools they need to manage the supply chain, create and check reports, and control operations are at their fingertips.
Plus, a cloud ERP platform offers users access to real-time analytics. You and your teams will have critical insights and improved transparency, which can lead to smarter business decisions – all in real-time and from anywhere.
Cloud ERP boosts flexibility
A cloud solution for enterprise resource planning enables your business to innovate faster and adapt to any type of known disruption – even a once-in-a-century global health crisis.
But, cloud-based software also offers inherent flexibility benefits that give your business even more latitude to shift gears quickly. This makes it easier to stay prepared, no matter what the future brings.
Cloud ERP is typically subscription-based, so you aren't locked into a long-term contract with your vendor. This gives you the freedom to adapt your IT infrastructure if your business needs and goals change.
Scaling is as simple as adding new users. This goes for scaling down as well. This is a huge advantage for growing small to medium-sized enterprises.
Extending your ERP solution and making customised changes is, for the most part, an easy task with the right system. While it is becoming the norm to implement best practice processes for a given industry, the software still needs to bend easily where the customer needs it to. Organisations need to ensure their chosen solution has the ability to do this at a reasonable cost and with minimal disruption.
With cloud ERP, the license model is typically SaaS (software as a service). This subscription-based pricing model means that the software costs are considered an Op-Ex, rather than a Cap-Ex, allowing organisations to retain their valuable capital for other investments.
More innovation, resilience, and flexibility
The bottom line is, cloud ERP empowers businesses of all sizes to pivot faster and with fewer costs and risks. This is a key goal for business leaders in the new normal. Cloud adoption offers the enhanced operational efficiency and flexibility required for building a more sustainable business going forward.
According to a recent McKinsey Global Survey, executives all over the world now recognise that establishing long-term digital solutions is no longer just about increasing cost efficiencies. It's about being able to quickly respond to challenges, explore new solutions, and evolve. Essentially, COVID-19 accelerated the adoption of digital technology by several years.
Inspired to Act?
Visit our Cloud ERP webpage to learn more about how the cloud can help you optimise your business operations and compete in the post-COVID world or get in touch with us today. If you know cloud ERP is what you need but not sure where to start, we offer a FREE ERP Kickstart for Success Consult. In this short session, we will use root cause analysis tools to uncover the true cause of a specific business problem, help you understand what this is really costing your business and give you some guidance on how this could be resolved.