Enterprise Resource Planning (ERP)
ERP software provides a single solution for bringing together diverse and often confusing business processes together…
Data Analytics and Reporting
With more data available to us about our business than ever before, we can end up suffering from information overload…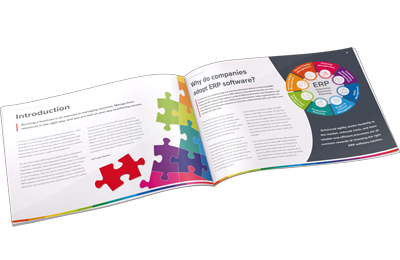 Is Your Business ERP Ready? 
Prepare your business for a successful Enterprise Resource Planning (ERP) project with our 12-step guide to success 
After 25 years of a custom-built system, we didn't just need the right ERP platform to replace it - we needed the right partner to help us implement and build on it. We found that partner in Precise.
Robert Ingley
Group Management Accountant, West Australian Newspaper Holdings
It was an absolute pleasure working with the Precise team, who helped us through such a big change for our organisation. Not only did they assist us in identifying exactly what we needed, they also went above and beyond when we got to the crux of the project to get us over the line successfully.
Jennie Laccohee-Duffield
Senior Management Accountant, Catholic Homes
At McLean Care our multiple legacy systems no longer supported the complexity of our existing business, new legislation changes, or our anticipated growth, highlighting an important risk to our strategic plans. To manage this, we decided to invest in an industry specific, fit-for-purpose Aged Care solution that would allow us to deliver on our strategic, economic, and operational mandate, well into the future.
Paul Maher
Director of Finance, McLean Care
Your long-term support with our ERP system and integration with multiple platforms has been instrumental to achieving continuous improvement.
Ajith Gunasekera
Chief Financial Officer, KLINGER Australia
Precise Business Solutions has helped us to uncover the right tools and techniques to tweak the system to work for us. We might have the ideas and the passion behind it, but you've got to have someone helping you to get there who both understands the software and is willing to understand your business. Precise has helped us to liberate our investment in the Epicor software to that next level.
Ajith Gunasekera
Chief Financial Officer, KLINGER Australia
Thank you for your support and the amazing Epicor ERP system that enables us to make better decisions!
Garry Johnson
Chief Executive Officer, Steel Blue Boots
We successfully completed our upgrade from Epicor E9 to E10 over the weekend which went very smoothly all thanks to the team from Precise! This can be a stressful time for staff as change is often difficult, however with Precise dealing with any issues as we encountered them, we were able to upgrade with ease. We also had all the support we required directly after the upgrade which was of vital importance to ensure any issues that may have arisen were dealt with ASAP.
Sinead McCartan
Management Accountant, SwanCare
Great company and team. Pleasure to deal with. Competent and capable and would highly recommend.
Jon Fisher, 5 star Google Review
Precise is a long term, strategic partner for our organisation, supporting and maintaining the core management systems with skill and the responsiveness we need.
Bret Campbell
Chief Financial Officer, Brightwater Care Group
Epicor and Precise are integrating our shop floor manufacturing operations to our procurement, project management and finance functions for the first time, and that is delivering us real-time access to information we could never have been able to achieve from our previous legacy systems and spreadsheets. That is helping us make better decisions in the business and deliver an even better, more consistent experience to our customers.
Tarvy Gosal
Managing Director, Fleetwood Architectural Aluminium
Epicor with SLS is far and away the best solution on the market for an aged care business like Amana.
Kyle Green
Finance Business Partner - Systems, Amana Living
Bethanie conducted a very thorough review of available solutions, which highlighted Epicor's market leading Senior Living Services ERP as being the best end-to-end business solution for an Aged & Community Care provider. We are confident that the industry experience and expertise offered by Precise Business Solutions, will help ensure the successful implementation of Epicor SLS helping to drive process transformation at Bethanie.
Simon Clark
Manager, Optimisation Projects, Strategy and Technology
We've just finished implementing Precise POS for P21 in our Trading Post facility in Glenville, Minnesota. POS for P21 allows us and our users to be able to service our customers quickly and efficiently through its friendly interface and its speed of transacting. All the while, integrating our sales information through to our P21 backend for reporting and processing.
Amanda Price
Director of Organisational Development, Pace International
Swapping our stores over to Epicor ERP 10 had to be done outside of retail hours. So that was a huge benefit of working with Precise - I could call them with an issue in the afternoon, and by the morning it would be sorted. Their engagement has always been incredible - and they go above and beyond for us.
Alison Burney
Head of Business Systems, Julian Charles Home
The skills and very responsive assistance from the team at Precise help us manage and evolve a highly flexible business system that is supporting our drive for continuous improvement in all facets of our business.
Daniella Halikis
IT Operations Manager, Steel Blue Boots
With significant changes to the Australian Aged Care Federal regulatory requirements and further changes to be released, Southern Cross Care (WA) recognised the importance of replacing outdated and disconnected legacy systems with an industry specific ERP solution to effectively manage these important improvements.
Bret Campbell
Chief Financial Officer, Southern Cross Care (WA)
We were particularly impressed with the flexible nature and modular structure of Epicor's ERP platform. We also enjoy a strong and productive relationship with Epicor's Alliance Partner, Precise Business Solutions, whose team demonstrates local expertise; impeccable on-the-ground support and ongoing technical advice.
David Fisher
Chief Operating Officer, Juniper