Australian owned business software provider Precise Business Solutions (Precise) was honoured with the global Epicor Partner Customer Experience Award at the 2019 Epicor Momentum Awards Ceremony on Wednesday 10 July.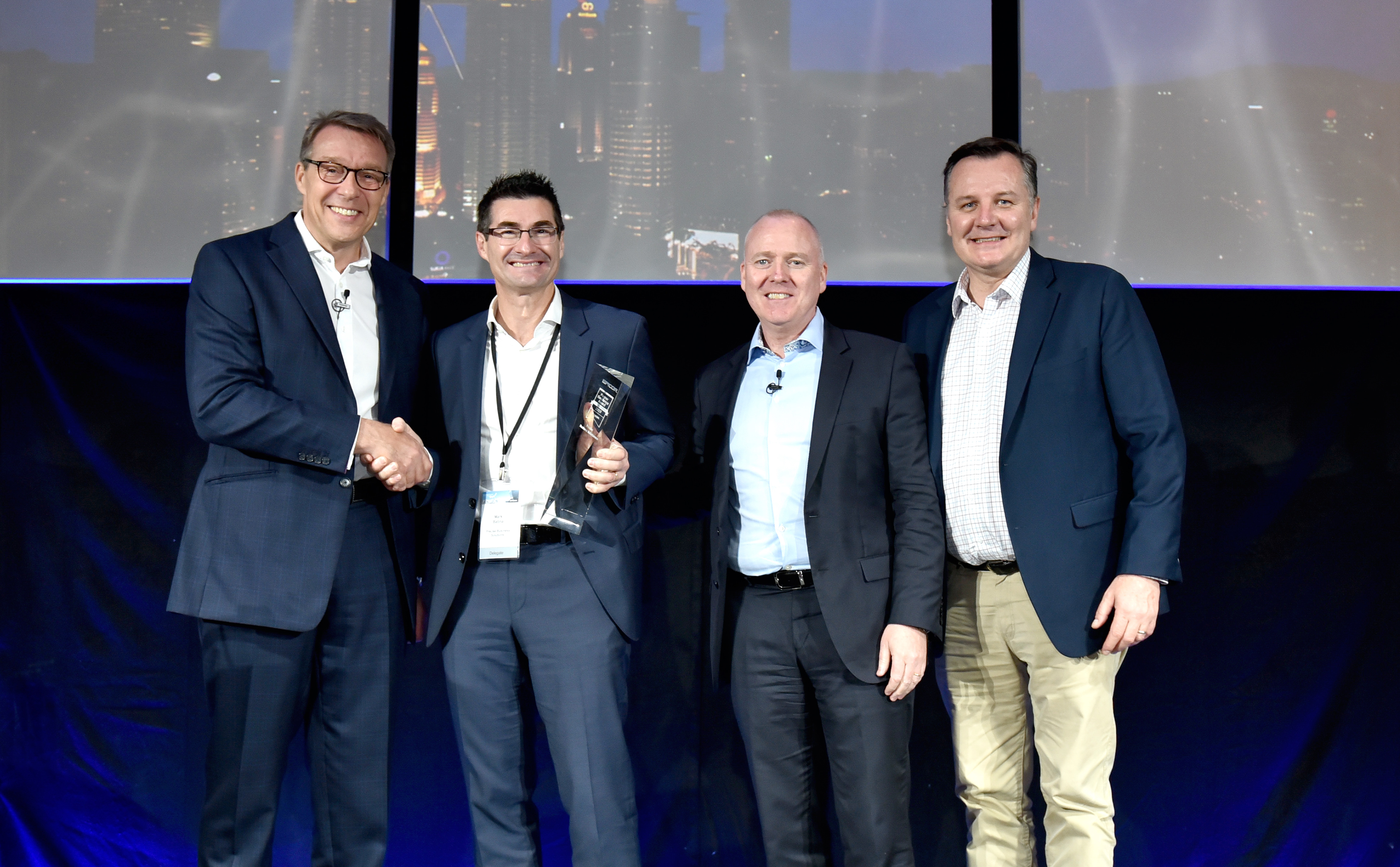 Left to right – Andy Coussins, Epicor Senior Vice President of International. Mark Batina, Managing Director Precise Business Solutions. Paul Flannery, Epicor Vice President of Partner Sales. Greg O'Loan, Epicor Regional Vice President of Sales.
Each year Epicor Software Corporation recognises their partners around the world for their ongoing success and achievements supporting Epicor business software solutions. The Customer Experience award is given to an Epicor Certified Partner who has delivered an outstanding customer experience through the implementation and adoption of Epicor business solutions or created extended value to the customer base.
Precise's winning nomination was received primarily for a business improvement project delivered for their customer KLINGER Australia – a manufacturer and supplier of safe and reliable industrial sealing, fluid control and monitoring solutions – which saw them making enhancements to KLINGER'S Epicor Enterprise Resource Planning (ERP) software solution to improve business efficiency and customer experience.
Precise Business Solutions' Managing Director Mark Batina said:
'We are thrilled to have been recognised with the customer experience award this year. The project with KLINGER is a sterling example of how our team at Precise works collaboratively with our customers to achieve their desired business outcomes and exceed their expectations.
"We firmly believe software solutions are about harnessing the power of a business in the most efficacious manner possible and should always be seen as part of the answer, not an answer in itself. We have worked closely with KLINGER over the past six months to align their Epicor ERP system with their cultural and process changes and the LEAN principles adopted by their business."
KLINGER Australia's Chief Financial Officer Ajith Gunasekera said it was an important part of the success of their business improvement project that Precise Business Solutions understood their business challenges, having worked extensively with businesses in the manufacturing space in Australia, and could quickly establish credibility with their workers.
"Epicor ERP is a strong manufacturing product already, but Precise Business Solutions has helped us to uncover the right tools and techniques to tweak the system to work for us. Our success is partly due to having the right consultant to work with. Epicor ERP is very adaptable – but it was about uncovering how we can do things better," Ajith said.
"We might have the ideas and the passion behind it, but you've got to have someone helping you to get there who both understands the software and is willing to understand your business. Precise has helped us to liberate our investment in the Epicor software to that next level."
KLINGER Australia's project also took out the Business Transformation category at Epicor's Customer Awards, which will be presented at the Epicor Insights ANZ conference in Hobart Tasmania, 22-24 July. Read more.