Article date: 4 February 2019
Precise Business Solutions (Precise) has been named as Epicor International Partner of the Year for 2018 – an honour Precise has taken out three times – also receiving this award in 2014 and 2013.
Each year Epicor recognises partners for their ongoing success and achievements supporting Epicor solutions. The International Partner of the Year award is selected based on exceptional performance in market growth, customer satisfaction, total sales and overall commitment to Epicor solutions.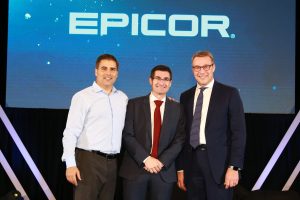 Precise Business Solutions was recognised this year for achieving double year-on-year revenue growth and growing its business to become the largest Epicor partner internationally in 2017-18.
Mark Batina, Managing Director at Precise Business Solutions said: "We are very pleased and proud to receive this award from Epicor recognising the customer-first efforts of our team around the world."
"At Precise, we are always striving to deliver excellence in achieving our mission: to help our customers get maximum value from their investment in Epicor industry-leading business solutions and technology so they can achieve their strategic objectives. Epicor is a great partner for us, always providing Precise with strong support in that mission."
"We really are delighted to have been named Epicor's top international partner for 2018. We would also like to congratulate Juniper, one of our valued customers, who are the recipients of the Epicor Customer Experience award for ANZ this year" said Mr Batina.
Andy Coussins, Senior Vice President and Head of International Sales, Epicor Software, said, "The Epicor Global Partner Excellence Awards recognise partners for their ongoing success and achievements in supporting Epicor solutions."
"As an essential component of our business, partners such as Precise Business Solutions add enormous value by providing local support to our customers and augmenting Epicor business models to best fit customers' needs."
Greg O'Loan, Regional Vice President, ANZ Epicor Software said, "Precise Business Solutions has been a partner for more than 20 years in Australia and New Zealand, and they are a trusted advisor for cloud or on-premise deployments in the region."
"This award is great recognition for a strong, long-term partner that not only understands our business and objectives, but works with us to overcome and resolve obstacles for the benefit of our customers."