Companies are Raising the Bar on What they Expect ERP Providers to Deliver
Industry innovations like cloud computing, artificial intelligence, machine learning and mobile devices have led to the development of more advanced and diverse Enterprise Resource Planning (ERP) solutions. 
And the global ERP software market is booming, with a forecasted value of USD $66.38 billion by 2026 and $71.34 billion by 2030. 
In turn, businesses are becoming savvier around how to realise a faster time-to-value for their digital transformation technology investment. 
They are recognising the advantages of partnering with an ERP consultant to help them navigate the risks and challenges across the phases of an ERP purchase journey to maximise ERP benefits.  
And they are driving higher standards and expectations from an ERP implementation partner at specific purchase journey phases. 
Why use an ERP Implementation Partner?
Companies are looking for an ERP implementation partner that doesn't just deliver on the technology itself.  
ERP implementation partners bridge the gap between the ERP vendor's software and the customer's specific needs. They work closely with a customer to understand their unique business requirements and ensure a successful ERP deployment.  
There is a strong demand for a partner that understands at what stage their support is needed the most and has the expertise to handle the complexities of the most challenging stages in the ERP purchase journey. 
What Businesses Want from an ERP Implementation Partner
The 2022 Epicor Industry Insights Report took a deep look into what customers really wanted from their ERP partner.  
More than 1,350 ERP users in the U.S., U.K., Australia, and New Zealand were surveyed and close to 50% of the respondents indicated more support was needed during the latter stages of the ERP implementation journey. 
The report found companies needed an ERP implementation partner to collaborate more strongly during the system configuration, data migration, training, testing, go-live, and the post-implementation support stages. Most importantly, companies expected: 
Guidance and solutions crafted to a business' specific needs, particularly during the implementation and go-live phases of the journey.

 

Backup and data hygiene issue support for successful interoperability across applications.

 

Provision of staff training and onboarding materials for a seamless ERP migration experience.

 

Transparency and clarity, especially during evaluation, planning, pricing, security, and training during migration.

 

A consistent and dedicated team that provides priority support at every stage.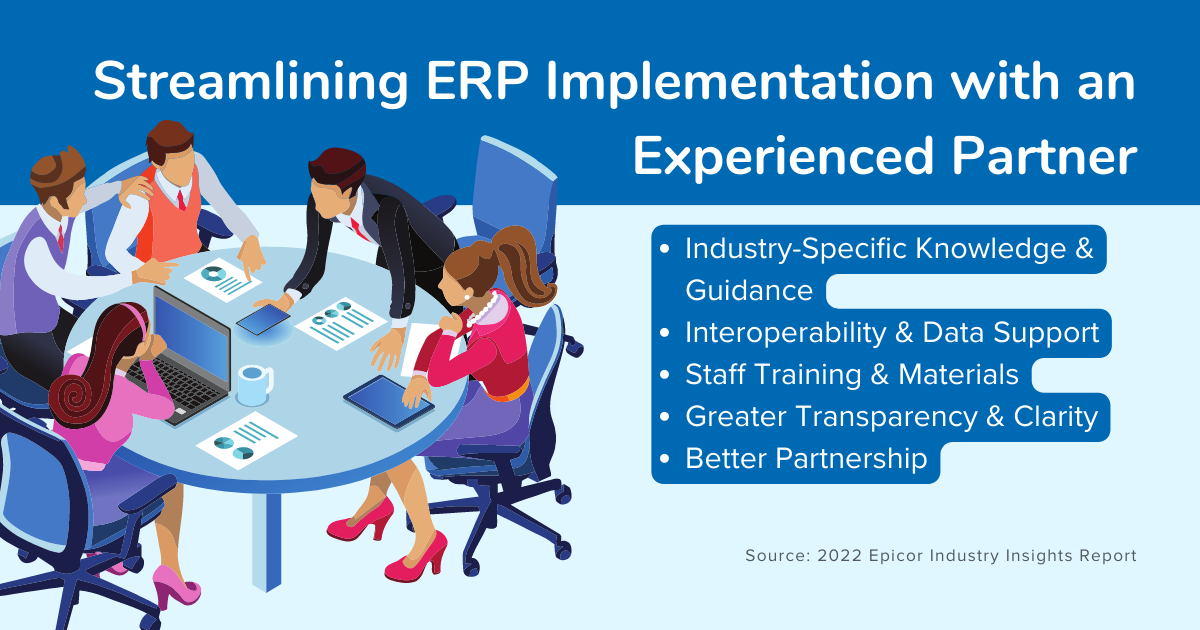 ERP System Implementation – Latter Stage Key Activities
The final steps and activities of an ERP system implementation typically occur after the ERP solution has been selected, the contract has been negotiated, and the initial planning phase has been completed.  
An ERP implementation partner will typically have a significant role in the following complex tasks, change management, and optimisation efforts:
ERP System Configuration:
The selected ERP system is configured to align with the company's specific business processes and requirements. Modules, workflows, user roles, security settings, and other system configurations are set up during this stage.

 
Data Migration:
The company's data from existing systems, spreadsheets, or databases is migrated to the new ERP system. Data cleansing and validation processes are conducted to ensure accuracy and consistency in the new system.

 
User Training:
Employees undergo comprehensive training to familiarise themselves with the functionalities, navigation, and processes of the ERP software. Training programs may vary for different user roles, such as end-users, managers, and administrators.

 
Testing and Quality Assurance:
Rigorous testing is conducted to validate the functionality and performance of the ERP system. This includes testing different scenarios, conducting user acceptance testing (UAT), and ensuring that the system meets the company's requirements and expectations.

 
Go-Live Preparation:
As the ERP system nears its deployment date, the implementation team finalises all configurations, data migration, and training. The company conducts thorough preparations to ensure a smooth transition from the existing systems to the new ERP platform.

 
Go-Live and Deployment:
This is the stage when the ERP system is officially launched and put into operation. The company switches from its old systems to the new ERP system, and employees start using it for day-to-day business operations.

 
Post-Implementation Support:
After the go-live, the ERP implementation partner provides ongoing support to address any issues, questions, or additional training needs. This support helps employees adjust to the new system and ensures that any teething problems are promptly resolved.

 
Continuous Improvement and Optimisation:
The ERP system's performance is continuously monitored, areas for improvement are identified, and processes refined to optimise usage. Regular updates, system enhancements, and best practices are implemented to maximise the ERP system's value and ensure the ERP system evolves with the company's needs.

 
Having access to expert support ensures a smooth transition, successful adoption, and ongoing improvement in ERP system usage, ultimately leading to better business outcomes and ROI. 
Interested to Know More?
Find out why Precise Business Solutions has been recognised in the global marketplace as a leading provider and implementation partner of Epicor Kinetic ERP software solutions.