As human beings, we have a natural desire to help others. We want to offer friendship, support and protection to the older members of our society. For generations, aged and home care has been an important part of global healthcare as we seek to provide support, treatment and dignity to those who need it, whether within an assisted living facility or within the individual's own home.
But in recent years this field has changed. Caregivers still demonstrate the love, expertise and compassion that they always have, but now they are supported with technologies that make their day-to-day lives that much easier.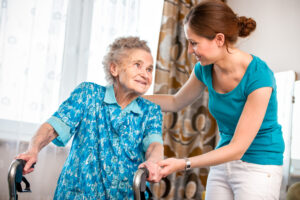 This software does not replace the human element of aged and home care. Instead, it enhances this human element, giving caregivers and agencies the chance to do their jobs more efficiently, and provide a better experience to those on the receiving end of those services.
One such solution that has been revolutionising the aged and home care field in recent years is Epicor's Senior Living Solution (SLS); an enterprise resource planning (ERP) software adapted to the very specific requirements of the aged care industry. At the base level, this platform allows aged care organisations the opportunity to truly understand the financial and human resources they have at their disposal and deploy them in a way that benefits their residents, customers and their families. But, the solution represents so much more than that, which is why it will play an integral part in the future of aged and home care.
Broad integration with long-term care software
While ERP solutions are more commonly associated with the businesses that manufacture or deliver professional or other contract-based services, they also have a major role to play in the provision of aged and home care. They give care providers the opportunity to not only manage the resources at their disposal but also to ensure that all processes and data elements critical to a great experience are working in concert with finance and business operations. This, in turn, ensures maximum efficiency.
Data integration is no longer a luxury or a unique selling point for leading software providers. It has become the norm — a basic component for any software solution. In the aged and home care field, the leading software providers of tomorrow will be those who can provide the most efficient and effective integration across in-home, facility-based and 'head office' business and care delivery functions.
This means:
Options for cloud-based aged and home care management software that updates in real time so that all users can immediately access the latest data on resources, wherever they are in the world, facilitating effective remote management.
Support for collaborative solutions, bringing together assisted living facility software and software for home caregivers out in the field. Caregivers and administrators out in the field have the same access to resource data as those who are centrally located and can make swift and effective allocation requests.
Support for mobile devices, smartphones and tablets where appropriate is an expectation today. This remote access must be accompanied by robust security and seamless on-demand access to role-based content.
Integration with other point-specific solutions, such as assisted living EHR (electronic health records) or clinical management systems. This means caregivers can do their jobs more effectively, and the client experience is enhanced as a result.
Better use of resources for care agencies and residential care facilities
Software should never simply be a necessary accessory for an aged or home care provider. Instead, it needs to become a key driving force aimed at delivering more efficient and more effective care.
Resource usage is at the very heart of this. Recent health crises — most notably COVID19 — have seen healthcare resources stretched to the max. This has resulted in marked decreases in care quality and client/resident well-being, through no fault of the caregivers themselves.
Industry-specific ERP solutions give care providers and facilities the tools they need to manage and deploy their resources in the right way. However, how does this filter through to the caregivers on the ground? How can we support the actions of these caregivers?
Again, the answer is through remote access and real-time data streaming. If caregivers on the ground (mobile, at a client's home or even in a residential care facility) are to accurately assess the resources available to them, they need to be able to access the latest data. What's more, they need to know that personnel back at the facility have access to their updates in real time and can escalate cases accordingly.
We tend to think of resource allocation on a macro level — for example, a central head office providing supplies and personnel on a large scale. However, resource allocation is just as important on a team level, or even on an individual level. In an aged/home care environment, all resources are precious, and wastage is something that needs to be avoided.
Let's take a look at this example:
An elderly resident is in need of a specific treatment and specific care equipment.
Integration with an EHR solution, or another patient data solution, delivers this information to the caregiver in a timely manner, through their mobile device.
The caregiver is able to access the ERP solution to plan the care and resources the resident will need over a certain period.
The integrated care system records this resource request to drive allocation and creates demand on the purchasing approval process to make sure that the required consumables will be available.
Making a real difference for caregivers
For most of us, applying technology is all about making life easier. From the smartphones in our pockets to the parking assistance systems in our cars, technology continues to revolutionise the way we approach life.
For care providers this need is particularly acute. When budgetary constraints or critical resource shortage begin to bite, it is usually the frontline staff who experience the most hardship at work. Similarly, as we have seen recently, when health care crises rip through our society it is the caregivers who bear much of the brunt. And, of course, this means those who need care the most are put at risk.
It does not need to be this way. With Epicor Senior Living Solution (SLS), we are able to provide aged and home care facilities with a complete package — in other words, they have everything they need to leverage the full benefit of ERP within their organisations. What's more, the package integrates with other existing patient care solutions you may have (such as Telstra Health/iCare) to provide a platform that is ready for action as soon as it is deployed.
This is exactly what technology solutions such as retirement and residential living management and home care scheduling software should be doing for caregivers — supporting them as they offer the best care possible wherever they are delivering it. This is what makes complete ERP solutions — along with remote access capability — the future of aged and home care.
Want to find out more about what we can offer Australian aged and home care providers looking for an ERP software solution? Book a 15-minute informal phone discussion with one of our ERP solution specialists to see if we are the right fit for you.