Article date: 13 October 2013
The 2013 Epicor Asia Pacific Ignite regional sales conference was hosted in Guangzhou, China last week bringing partners together with Epicor executives, senior management and staff.  Presentations and discussions around Epicor's strategy and continually evolving products generated a great sense of positivity and opportunity for growth of Epicor solutions in the region.
The event's Awards Dinner annually recognises the best performing sales people, sales engineers, consultants and partners, and  for the first time Precise Business Solutions has been named Epicor's Worldwide Partner of the Year. This prestigious award reflects the dedication and hard work from the team promoting, implementing, extending and supporting Epicor solutions here in WA, beating out over 400 other Epicor partners around the world.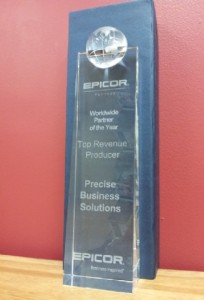 Managing Director Mark Batina said "This is a tremendous achievement for our company based in Perth, Western Australia. It shows how far we have come over the years and that we have the people, skills, commitments and products to compete on the world stage.  We are also greatly appreciative of the support and faith of our customers in making Precise and Epicor part of their business."