Epicor Advanced
Project Management
"Epicor and Precise are integrating our shop floor manufacturing operations to our procurement, project management and finance functions for the first time, and that is delivering us real-time access to information we could never have been able to achieve from our previous legacy systems and spreadsheets. That is helping us make better decisions in the business and deliver an even better, more consistent experience to our customers."
Tarvy Gosal
Managing Director
Fleetwood Architectural Aluminium
Project Based ERP Software with Embedded Contract Management and Billing
Manage projects, contracts, claims, subcontractors, variations and revenue recognition within one single user friendly system that gives you full ERP functionality including manufacturing and supply chain management, for a complete solution.
Epicor Advanced Project Management is built in the Epicor development framework, and is a fully integrated software solution for businesses that have a need to manage complex contracts and multi-faceted projects within their enterprise resource planning (ERP) system.
Epicor Advanced Project Management is a specialist solution, addressing the challenges of complex contract management in a world class modern ERP environment. Enjoy a consistent experience while unique business requirements can be easily accommodated within the flexible toolset.
Capture all costs and invoice everything, on time, as per the contract
Many companies involved in the design, delivery, fabrication and construction of major projects need to capture costs on a project for labour, equipment usage, material, expenses, and subcontractors. These costs then need to be invoiced based on the agreed contractual billing terms which could be fixed price, progress percentage, quantity-based or a complex combination of all of these. On top of this, these businesses also need to manage retentions, claims and variations, all of which add another layer of complexity to the billing process.
Improve cash flow and forecasting through effective management of contracts and projects
Large, complex projects present a lot more risk to the business. Managing cash flow is critical, and if claims are missed, it impacts more than just the bottom line. Businesses need the visibility to enable them to bill or claim everything they can, at the time they are allowed contractually. This process must be systemised with workflows and automation, to help the Project Managers and Cost Accounting team do their jobs effectively and keep the projects on a profitable track.
Get control of the numerous subcontractor obligations and on-charges
Complex projects are rarely a 1:1 relationship between the customer and the vendor. More often than not, many aspects of the job are contracted out to other companies and this web of multiple contracts must be managed very carefully. The management of subcontractor terms and deliverables can prove challenging, especially if they are not linked with the one or more customer contracts they are working on. Spreadsheets and memory soon become unreliable and more revenue is lost through charges not being billed.
Eliminate spreadsheets and manual journals from your revenue recognition process
Long term contracts are not unusual in these industries, so the management of revenue recognition is key, especially with the changes to the revenue recognition standards. Gone are the days when cost accounting teams battled with spreadsheets to manipulate period accruals at month and year end, hoping they have captured all costs and revenue. What they need is an easy to use workbench that generates proposed accruals but allows them to make changes to the calculations as required. When the accruals are agreed, the GL journals are posted automatically upon commitment. What they want and need is flexibility.
The Contract Summary screen gives you a complete snapshot of the high level elements of the contract.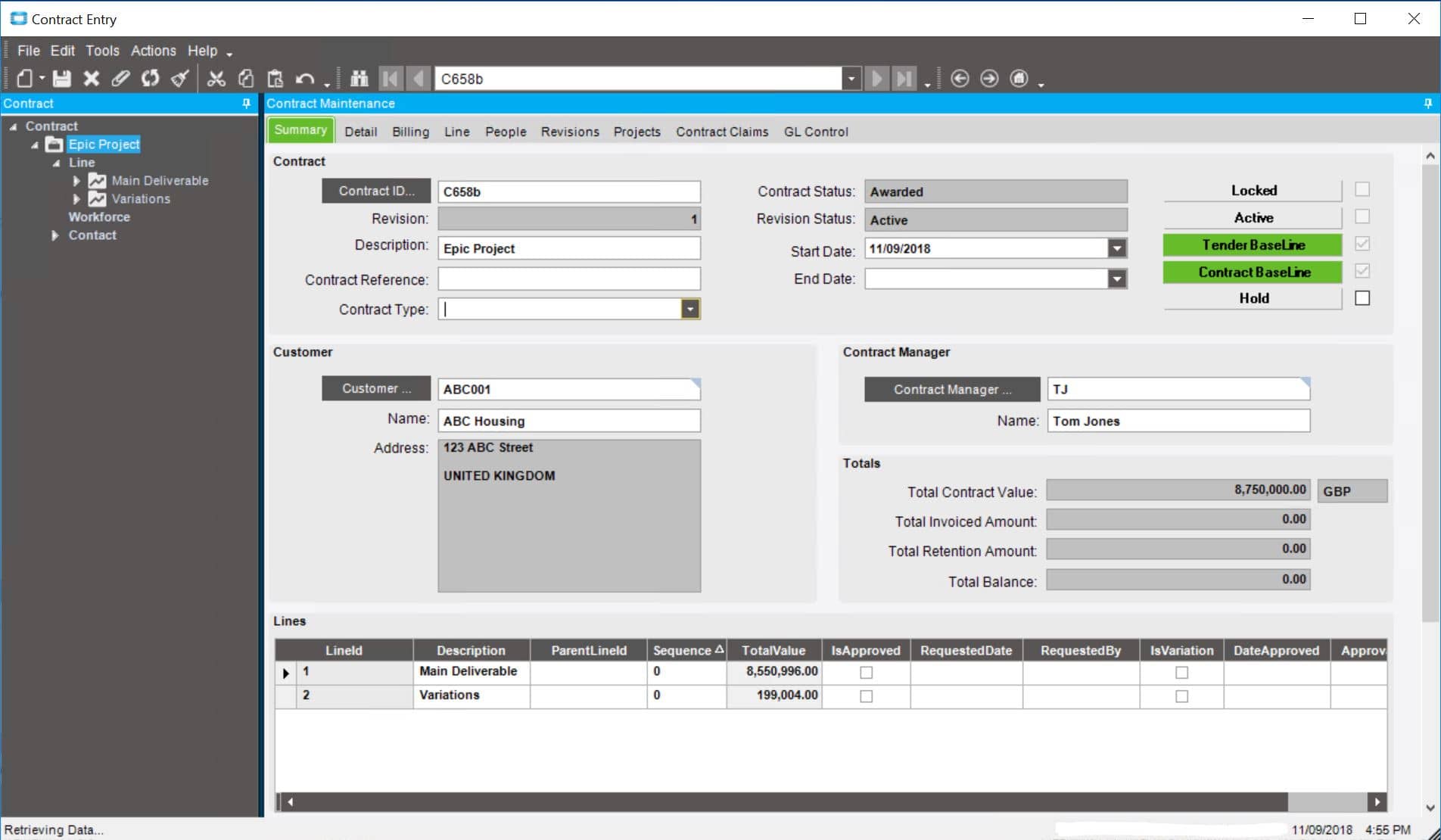 Manage complex contracts.
Contracts can be tied to a single project, or many projects.
Manage small and long duration contracts.
Multi-level item/scope definition.
Revision control and variation controls.
Retention management.
Ability to do complex invoices with a mixture of fixed price, progress and quantity based billing methods.

Cumulative claims management.
Applications for payment/proforma invoice processing.
Approval process to validate prior to submission to customer.
Integration to Accounts Receivable to enable holistic customer reporting.
Invoicing based on valuations, not just part shipping.
Flexible invoice and claim layouts to show summary or detailed lines.

Manage complex contracts.
Subcontracts can be tied to a single deliverable, or many.
Revision control and variation controls.
Retention management.

Financial recognition of revenue and expenses based on various valuations methods, including; qmount billed, progress percentage, cash received.
Enables true project profitability based on current performance and expected completion.
Ability to adjust accrual calculations as required.
Automatic posting of accruals to the GL.
Manual journal adjustments to projects as needed.

Budget approval process to lock in an original/baseline budget.
Cost code/cost head budgets.
Comparison of spent vs recognised.
Budget and capture costs by phase and by cost code.

Cumulative claims management.
Integration to accounts payable to enable
holistic vendor reporting.
Payments based on valuations, not just goods received.
Built in ERP Benefits
Advanced workflows and approval functionality to manage everyday business functions.
Integrated procurement functionality to manage the requisition, purchase and invoicing lifecycle.
Full project sub-ledger with cost capture from the core ERP system.
Managing the financial aspects of large and complex contracts is not an easy task, and if it isn't done well, can result in costly mistakes.
Variations not billed, resulting in missed revenue.
Penalties and potential lawsuits through not meeting contractual obligations.
Manual integration of disparate systems, costing time and facilitating mistakes.
Cashflow stress caused by the mismanagement of claims and subcontractor payments.
Lack of collaboration across the business due to misalignment of contract obligations within departments.
Poor customer, subcontractor and employee experience due to lack of visibility, inaccurate invoicing and processes that aren't consistent.
Reporting that is slow, manual and always historical, with no real-time visibility of the health of the business and the
status of the projects.
Can your business afford to continue working like this?
How many more contracts can you take on when it is so hard handling the ones you already have? What you really need is an integrated system that works for you, that generates efficiencies in the business, automates manual tasks and streamlines processes so that mistakes are kept to the bare minimum, if at all. You need to ensure that every project is profitable so that your business flourishes.
The benefits are endless and extend beyond systemisation.
Epicor ERP with Advanced Project Management has been built with your challenges and goals top of mind. We know and understand the importance of managing complex contracts and multifaceted projects within companies like yours.
Contact us to set up an obligation free meeting to discuss your needs. This may be in person, a video conference or over the phone.
Whether you are just researching your options, or you are currently in the throes of software selection, we can help you at every step of the way.