Your ERP Journey
Your ERP Journey – when viewed as part of a longterm business strategy – is a continuous lifecycle of growth and development, eventually leading to true business transformation (if that is where you want to go).
Our goal is to help our customers to achieve business growth, deliver an exceptional customer experience and become leaders within their industries.
The right ERP (Enterprise Resource Planning) technology will enable you to achieve this, when implemented by an experienced partner with knowledge of your industry and supported by a carefully planned and executed strategy that you are also able to support internally.
Vision
Your ERP Journey begins with a discovery process that delves into where your business is now, and a forward look at where you want to be.
By truly understanding the current maturity of your business across key areas and which of these areas you will be most focused on growing, we can recommend the right mix of solutions and services to support you on that path.
We call this business maturity model Precise F.I.T: Foundations, Improvements, Transformation.
Execution
Execution is where the magic happens. It's important to adopt an implementation methdology for your ERP project that is agile and scalable and thorough, yet doesn't paralyse the project with too much detail where is isn't required.
Our proven Precision Methodology supports a phased approach, designed to help you experience a cost-efficient implementation, have your Enterprise Resource Planning (ERP) solution up and running on-time and on-budget, and provide full transparency and control throughout the lifecycle of the project.
However, it takes more than a sound implementation methodology to drive and sustain a successful ERP project and its ongoing successful contribution to your business. The Precise ERP Success Framework is an over-arching blueprint covering the essential components required for a successful ERP project. It goes far beyond just the implementation component with Precise, to also provide a a framework for supporting your internal engagement and ongoing business success.
Evolution
Unlike what you may experience with some larger software corporations, our engagement with you doesn't stop at system 'go-live'.
It is important to us that you are satisfied with the return on your investment and we relish the opportunity to work with you post-implementation to help you unlock the full potential of what your ERP solution can do for your business.
Our ongoing support services are designed to assist you immediately post implementation as you start to use the newly implemented solution across your business, as well as support you well into the future if and when your needs change. 
Read More
As your business matures and grows and you move from foundations, to business improvements and perhaps even large scale business transformation, we will be there at every step of the way offering expert advice, helping you implement best practices and recommending solutions that will take you to that next level
We call this support program Ever-Assist.
Guided by you, and dependent on what your particular needs are an Ever-Assist support plan may mean us conducting a review 3 months or 6 months down the track, setting up regular support meetings, or providing further consulting to implement add-on solutions or modify your ERP system to suit changes in your business model. 
Read Less
Are you ready to start your ERP journey?
Making a decision on which company you choose to partner with is just as important as selecting the software itself. We become part of your team and everyone knows that if you have the right team behind you, success follows.
Whether you are just researching your options, or you are currently in the throes of software selection, we can help you at every step of the way.
Contact us today for an obligation free consultation with one of our ERP solution experts.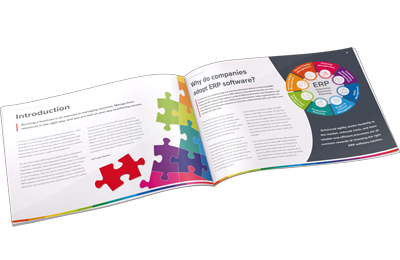 Is Your Business ERP Ready?
Prepare your business for a successful Enterprise Resource Planning (ERP) project with our 12-step guide to success