Enterprise Resource Planning (ERP) Software
Wat is ERP?
Veel mensen hebben de neiging om iets anders te gaan doen wanneer ze de term 'ERP-software' horen. Dat is eigenlijk niet zo verrassend… het klinkt ingewikkeld, misschien zelfs een beetje saai totdat je weet wat het is. En zelfs als u weet waar die drie letters voor staan – Enterprise Resource Planning – legt het eigenlijk niet uit wat ERP-software is en wat het voor uw bedrijf kan betekenen.
Gezien het verschil dat de juiste ERP-software kan maken wanneer het op het helpen bereiken van uw bedrijfsdoelen neerkomt, kunnen de letters E.R.P net zo goed staan voor de vele manieren waarop deze software uw bedrijf kan helpen.
Read More
Afhankelijk van uw zakelijke ambities, kunnen alternatieve definities voor ERP zijn:
Every Resource Productive
Enhanced Real-time Performance
Efficient Repeatable Processes
Everlasting Rock-solid Partnerships
Simpel gezegd, goede ERP-software brengt een scala aan verschillende processen en disciplines samen in één oplossing om u meer overzicht over het hele bedrijf te geven, uw organisatie efficiënter te laten werken en uw medewerkers in staat te stellen beter samen te werken met elkaar, uw klanten entoeleveringsketen
Read Less
WAAROM GEBRUIKEN BEDRIJVEN ERP-SOFTWARE?
Onder de ERP-paraplu vallen een aantal belangrijke bedrijfsprocessen, zoals voorraadbeheer, personeelsbeheer, materiaalgebruik, boekhouding, productie, klantrelatiebeheer en nog veel meer. Het idee van ERP-software is om deze diverse en vaak verwarrende onderdelen samen te voegen tot één, gemakkelijk te beheren geheel.
Het onmiddellijke voordeel van een dergelijke oplossing is dat in plaats van overweldigd en verdwaald te raken in een zee van complexe en schijnbaar tegenstrijdige processen over meerdere systemen en gegevensbronnen, uw inspanningen zullen worden geharmoniseerd, waardoor uw bedrijf veel efficiënter en effectiever wordt. Verbeterde wendbaarheid, meer flexibiliteit in de markt, lagere kosten en betrouwbaardere en efficiëntere processen zijn allemaal veel voorkomende voordelen van het kiezen van de juiste ERP-software oplossing.
UW ERP-OPLOSSING KIEZEN
Het antwoord is dus simpelweg nieuwe ERP-software 'adopteren', toch? Nou, niet echt. Het feit dat er veel verschillende oplossingen op de markt zijn, zou erop moeten wijzen dat er ook veel verschillende soorten oplossingen zijn. Elk heeft zijn eigen sterke en zwakke punten, en elk kan meer geschikt zijn voor een bepaalde branche of bedrijf, afhankelijk van hun specifieke behoeften, model en strategieën.
De juiste ERP-oplossing voor u ondersteunt werkelijk alle unieke behoeften van uw organisatie en past waar nodig de beste praktijken uit de branche toe.
Read More
Bij Precise Business Solutions zijn we selectief in de producten en industrieën waarmee we samenwerken. In plaats van alles te zijn voor iedereen, zijn we trots op ons superieure vermogen om ons kernaanbod van Epicor ERP-oplossingen en bijbehorende oplossingen voor de volgende industrieën te leveren:
Precise Business Solutions is een van de oudste en meest gerespecteerde partners wereldwijd voor Epicor ERP-software oplossingen. Epicor Software Corporation (Epicor) is een wereldwijde leverancier van zakelijke bedrijfssoftware. Hun vlaggenschip product, Epicor ERP, bevordert innovatie om bedrijven te ondersteunen bij het opschalen en evolueren met een systeem dat gelijke tred houdt met de technologie in het tijdperk van Industry 4.0. 
Read Less
laten we het gesprek op gang brengen
Denkt u dat u misschien een nieuw ERP-systeem nodig heeft, maar weet u niet waar u moet beginnen? Of u nu alleen de mogelijkheden aan het onderzoeken bent, of u momenteel midden in het selectieproces zit, wij kunnen u bij elke stap helpen.
Neem vandaag nog contact met ons op voor een vrijblijvend gesprek met een van onze ERP-consultants. Dit kan persoonlijk, via een videogesprek of telefonisch achter uw bureau.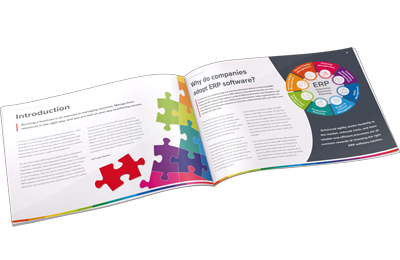 Is uw bedrijf ERP klaar?
Bereid uw bedrijf voor op een succesvol Enterprise Resource Planning (ERP) – project met onze 12 – stappengids tot succes